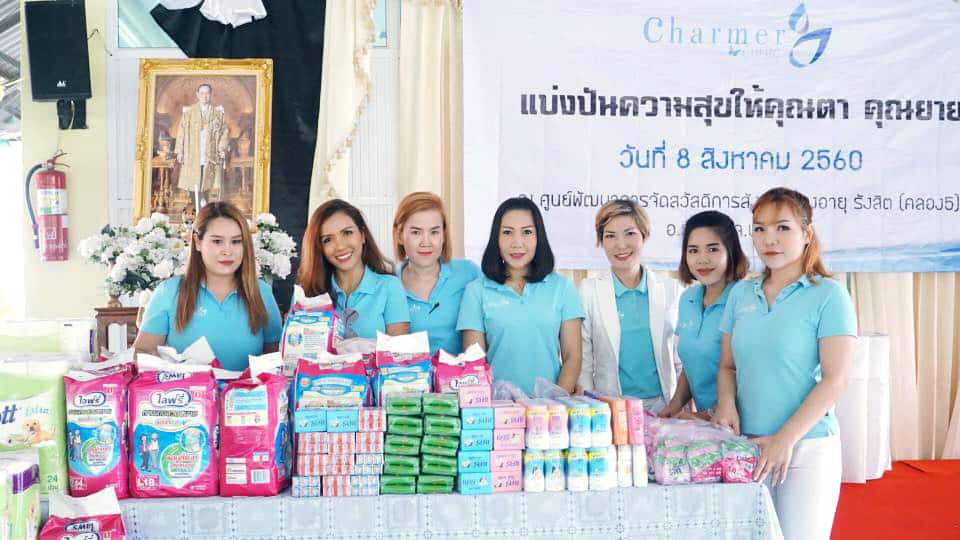 Charmer Clinic donated appliance
AT PATHUMTANI FOR ELDERLY CENTER.​
Charmer Clinic went to donate food and appliance for elderly people who had no home. We got many feelings that we would like to share to you.
Happiness: We were very happy that we had a small chance to help people that had no chance to work like us, like elderly people.
Commiseration: when we saw their eyes, we felt how pity they were. Their eyes showed us the heaviness of their life. They needed love. There was a grandmother sang a song and that made us cry.
Reality: At last, we will be getting older and there's nothing forever. There was a grandmother. She was a Miss Chiangmai. She was beautiful in the past, but now it's all gone.
Sharing: Just we share something that we may forgot to spend in every day. This money can be things that we buy for people who don't have anything. The elder people, even they have nothing, but they still share their own things to other people. We must think about ourselves again that what we spend now in our life may help other people.
At last, we want to thank you our family, friends, customers, teachers, staffs, problems, chances, and times.
FOLLOW OUR NEWS EVERYDAY JUST CLICK!