PHONO: REDUCE YOUR WRINKLES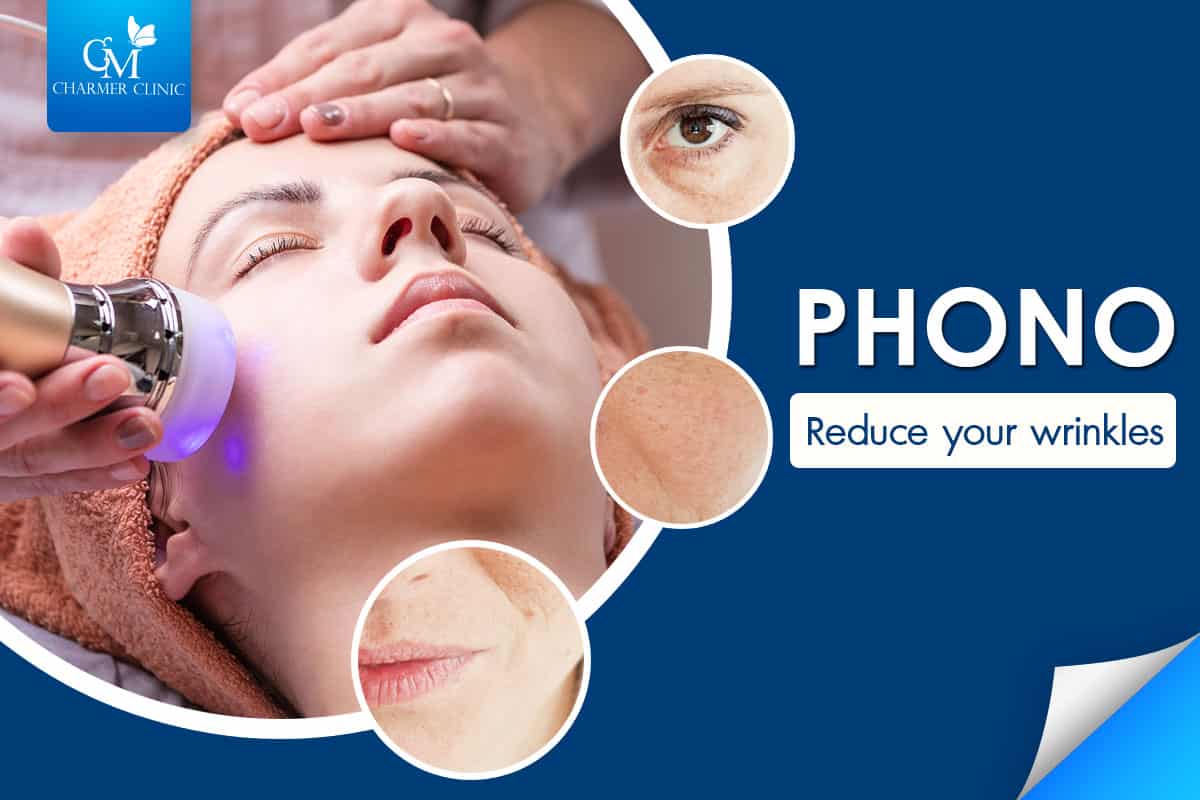 Phono is the treatment to help you reduce your wrinkles, acnes, raccoon eyes, under-eyes bags, freckles, melasma, and dark spots by using sound wave to help medicine get into deep skin layer with blood flow and lymph stimulation.
Beauty is not only from nature
It is essential to take care of your skin, especially your face skin. You need to take care of your face skin continuously because our skin is changed every day. So, if you don't take care of your skin and apply facial creams, it may cause wrinkles!
Actually, there are a lot of reasons for being causes of wrinkles. It is not just only your age that causes your skin changed, but also hormone, stress, anxiousness, sunlight, can't get a wink of sleep, food, smoking, and frown lines.
Even wrinkles are the problem of your beauty, but this problem can solve today by many treatments. It depends on your age and skin conditions for different treatments such as; applying facial creams, taking vitamin A or E, iontophoresis treatment, microdermabrasion treatment, face lifting surgery, and etc. However, at Charmer Clinic has another treatment to reduce your wrinkles. You can get a good, easy, and safe result from the treatment called "PNOHO"
PHONO is a small equipment similar to massage equipment which made from stainless steel and contains crystals. PHONO uses the sound wave to help medicine get into deep skin layer and stimulate blood-flow and lymph. It is a safe treatment and give you a very good result.
• Reduce melasma, freckles, dark spots, and acne scars.
• Reduce panda eyes and under-eyes bags
• Reduce wrinkles
Have a consultation with a experienced doctor.
Clean your cosmetics and face.
The doctor will apply medicine on your face skin and under eyes. After that, the doctor will use PHONO equipment to massage around your that area. The sound wave with vibration will help medicine absorb into your skin. This medicine affects your skin care that causes the creation of cells. It can reduce your wrinkle efficiently.
The treatment will take times for 30 minutes. You should come for the treatment at least every 1 time/week and continuously do the treatment around 4 times/month.
INSTRUCTION AFTER TREATMENT
Avoid from sunlight for 24 hours.
Eat healthfully to prevent wrinkles such as; yellow or red fruits/vegetables (papayas, apples). Fruits and vegetables source of Vitamin A. Eat all 5 food groups.
Always exercise to make your health strong.
Apply facial creams and sunscreen SPF50+.
PHONO treatment will not have an effect on your eyes.
Even you do the PHONO treatment around your eyes area, but it will not have an effect on your eyes. It is only the treatment at the skin layer and the sound wave will not harmful to your eyes.
PHONO treatment can reduce your wrinkles and panda eyes by using sound wave. It will remove water or lipid at under-eyes bag by make them spread and absorb into body system. It stimulates blood-flow around under-eyes to reduce panda's eyes.
The treatment must be under the experienced doctor only.
It is vital to do PHONO treatment by the experienced doctor. So, you should have a consultation with a doctor before making a decision. If you try to do many treatments for your face at the nonstandard clinics, it may cause side effects on your skin. To protect you from these problems, you need to be careful.
There are many treatments to make your skin bright and reduce wrinkles.
Beside PHONO treatment, there are lot of treatments to reduce wrinkles and make your skin shine such as; Ionto, Electroporation, HydroBright, OxyBright, M.D. and Aurora treatment.